Starfish
Welcome to the Starfish Class Page.
Nursery and Reception - EYFS Teacher - Mrs Dalley
2021 - 2022
Learning about Animals
The pupils have really enjoyed learning about animals and habitats! The children have been rescuing and washing animals using their fine motor skills. They have been exploring animal bones and shells, trying to work out what animals they belonged to, plus much more!
Show and Tell - Pets
The children had a fantastic time sharing their pets with their friends. They explained to their peers what their pet eats, where it lives, how old it is and what they have to do to look after it. Thank you to our children and families for sharing their pets with us.
Van Gogh - Sunflowers
The children discussed what colours were used, and what Van Gogh used to paint the picture (palette knife). The children then mixed their own paint (paints and flour) and created their own Sunflower picture with an art tool. The results were amazing!
Minibeast Detectives
The children have been searching for mini beasts including worms. The children can name lots of mini beasts and they know how to take care of them. The children had great fun creating our class wormery. The children layered the sand and mud in a repeating pattern, then carefully added the worms.
Exploring Christianity
Pupils have been exploring Christianity. The children have been looking at symbols and artefacts. The children have been discussing how they show respect and love for one another, and how they know that they are respected and loved. Pupils spoke with confidence about their personal experiences.
Witches and Wizards
Our witches and wizards have been having a fabulous time crafting all sorts of spells and potions.
Being Active
Starfish Class have been enjoying obstacle courses where they have been solving problems manoeuvring up, over, and through equipment.
Exploring Space
The children have been learning about the different planets and what they are called. The children created a large rocket out of recycled boxes and they have been listening to space themed stories.
Mental Health Week
The children took part in rainbow breathing, practised massage techniques, visited the 'Starfish Spa' and took part in a yoga session. There were lots of activities on offer to support the children's well-being for Mental Health week.
Share a Book
Thank you to the adults that attended our 'Share a Book' session. Our Starfish pupils had a wonderful time sharing books with you. A love of reading is a lifelong gift and unlocks the whole world!
Christmas
What a busy half term we have had! The children read The Jolly Christmas Postman and wrote their own letters to Father Christmas. They have been decorating the classroom and after all of their hard work they were rewarded with a Christmas party.
Baking
We love to bake in Starfish Class. We have recently made cheese straws and cookies. Cooking helps our children to practise a range of physical skills, particularly their hand-eye co-ordination. Mixing movements also help to strengthen the muscles in their little hands.
Stay and Play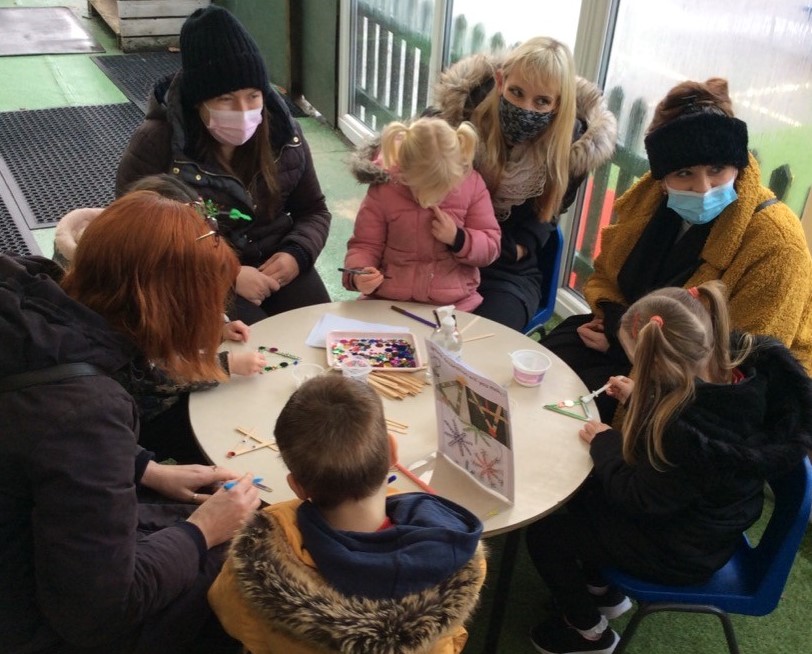 Our Stay and Play sessions have been a great success. It is lovely to see our children, parents and staff playing and learning together. Thank you to our fantastic parents/carers for taking the time out of your busy days to come and see us!
Learning about Healthy Teeth
The children have been have been learning about oral health. They have discussed the importance of making healthy choices about food, drink and tooth brushing.
Reading Buddies
Children have the opportunity to take home a 'reading buddy' to look after for the weekend. The children have been inventing stories, reading magazines and books to the Reading Buddies!
Exploring Number and Shape
The pupils have been exploring number and shape using a range of resources. The children have been using mathematical language and solving problems too!
Reading to Stanley
Stanley, our Pets as Therapy (PAT) dog, was a welcome addition to the Corton family. Stanley and Mrs Collins listened to pupils read and there was an opportunity for the pupils to interact with Stanley too. There was a buzz of excitement and a positive response from pupils (and staff) who met Stanley. We cannot wait for them to visit us again!
Celebrating Diwali
Our Early Years pupils celebrated Diwali.


The children learnt about the story of Rama and Sita, acting out their favourite parts. They also created lanterns and Rangoli patterns. A special visitor (JayaDance) also led a dance work shop, the children really enjoyed dressing up in traditional Indian dress. Both pupils and staff had a wonderful day!
Exploring Fruit
We shared the story of Handa's Surprise. Looking closely at the illustrations and talking about the different fruits by name, later the children enjoyed matching them to the real fruits when tasting them. "This one is sweet - I like it".
People Who Help Us
This half term Starfish pupils have been learning about 'People Who Help Us'. The children have been exploring different roles through imaginative play and stories. Staff explained to the children what to do in an emergency situation and the children practiced how to ring for help.
Settling In
What an absolute joy it has been welcoming back pupils and getting to know new children at our school. The children have settled in so well and made new friendships. They're smiling and happy. What a credit to their families - you should all be very proud!
2020 - 2021
Growing and Caring for Plants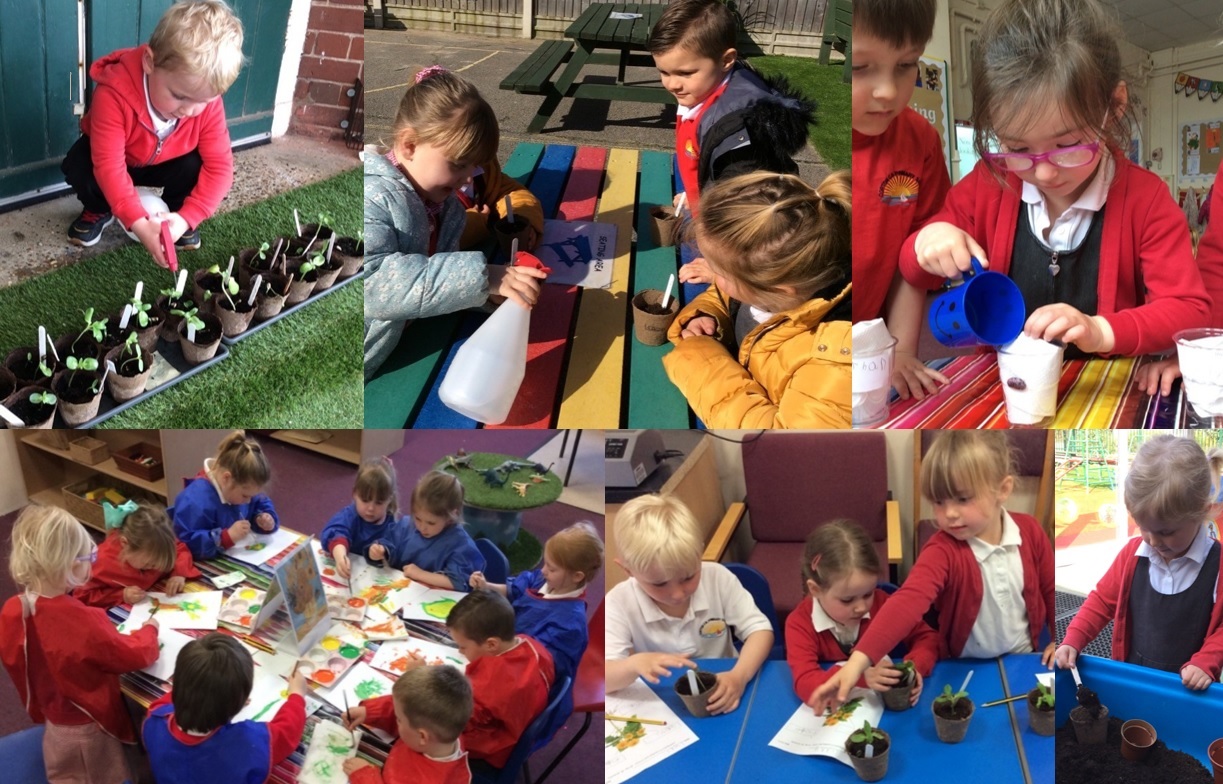 Starfish Class have been learning about plants and how seeds grow. The children planted beans and sunflowers and they have been discussing the changes they've observed. It has been lovely to watch the children taking responsibility in caring for their plants.

Happy Birthday Ma'am!
To celebrate Queen Elizabeth's 95th birthday the children took part in art and craft activities. The children also made an amazing birthday cake using outdoor construction materials. The children asked lots of questions about the Queen and the royal family and the children looked at photos. A fun day had by all!
"That's a big number, she's old"
"I think she wants a new crown for her present"
"I think she's at her castle today"
"I think she'll get a big cake with blossom trees on top"
Local History
Starfish pupils were hooked when learning about the history of Corton Village. The children learnt about the School, the Mill and how the roads and transport have changed over time. The children were fascinated by the photos and videos and asked some fantastic questions!
Under the Sea
Pupils have enjoyed learning about sea creatures and their similarities/differences. We have a had a few deep sea divers in class that have encountered sharks and sting rays - would you believe it? There has been some digging for treasure and learning about pirates too.
Being Active
Starfish Class spend a lot of their day outdoors. It is good for the children's physical health, development and self-confidence. Plus it's great fun too! The children enjoy playing games and testing their physical limits. Being outdoors gives the children more space and freedom for big movements, like running, jumping, kicking and throwing.
Snow Fun
Starfish Class LOVED exploring the snow outdoors and indoors. The children discussed how the snow changes and where it comes from.
Home Learning
Our Reception pupils have been engaging in transport crafts, ordering numbers, keeping fit, dissolving solids, hunting for numbers and applying their phonics knowledge in their reading and writing. You are all super stars!
Maths
The children have been busy exploring number and shape in all areas of the classroom. It is fantastic seeing the children solve their own problems.
Home Learning
Our Nursery and Reception children have done a fantastic job with their home learning. They have been busy reading, writing, investigating, counting, baking, gardening the list is endless. The children have been amazing at keeping themselves busy. We are so proud of you all.
Early Writing
Children have been developing the hand skills needed to hold and control a pencil as they make everyday movements around the different areas. The children have really been enjoying the process of mark-making and writing. We are so excited to watch their writing skills develop!
We're Going on a Bear Hunt
The children created their own story map to help them retell the story. The children enjoyed joining in with the repetitive verse and changing the speed and pitch of their voice for effect. The children later enjoyed editing the story "We're Going on a Pig Hunt", "We're Going on a Dinosaur Hunt".
Settling into School
We are so proud of how our new children have settled into school. The children have made new friends and have become confident to try new activities. As successful learners the children have been: * playing and exploring * active in their learning * creating and thinking critically. Our stimulating indoor and outdoor classrooms are always changing in response to children's learning.