Seahorse
Welcome to the Seahorse Class Page.
You can also follow us on Twitter! @CortonPrimary
2019 - 2020 Years 1 & 2
2018 - 2019 Years 1 & 2
All Aboard!
Seahorse Class have been learning about "The Titanic" this Half Term. They have discovered lots of interesting facts about this famous ship and its disastrous collision with an iceberg in the middle of the Atlantic Ocean.
They have written a non-chronological report on the Titanic in English and in Topic they have designed their own ticket for the passage.
Seahorse Class have also been learning about the French sculptor, Auguste Rodin and made their own Titanic models from clay – they just need to keep them away from any ice!
RE
Yr 1 & 2 have been exploring their RE enquiry question: How do Christians belong to their faith family? To help the children start to understand commitment they experienced a Christian wedding. Thank you to parents for the wonderful outfits & party food. Pupils had a fantastic time learning through experience.
English
Pupils have been learning how to write a traditional story.
The children have been analysing and evaluating 'The 3 Little Pigs' looking at language including characters speech, story structure and presentation.
Maths
We have been learning about and extending our understanding of place value. Place value means that the place we write a digit tells us its value. This helps us to know how big or small our number is. We have been playing lots of games that have got us thinking about our tens and ones.
Science
We have been carrying out experiments involving taking measurements and using equipment to gather data. We have been learning about how animals and plants have adapted to the environment that they live in.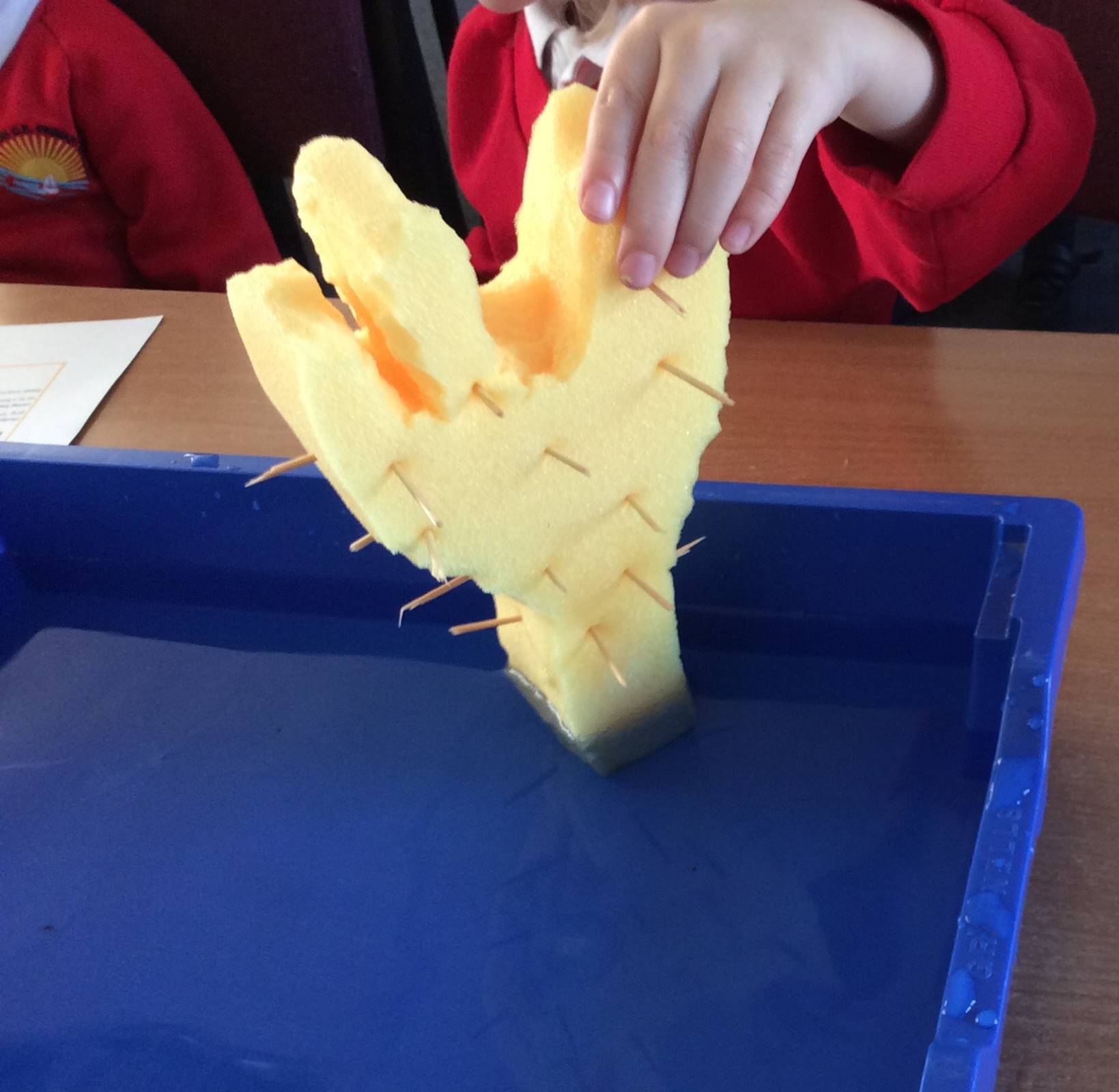 Parent Lunch
We have enjoyed having our parents in for school dinner.
2017 - 2018 Years 1 and 2
Maths
We have been focusing on Place Value, looking in depth at the properties of numbers.
Humanities
In our History lessons, we have been focusing on the past, present and future. We have been learning about the significant historical event of The Gunpowder Plot.
English
Our Non-Fiction unit of work has been based on presenting information using labels, lists and captions.
Humanities
Within our Geography lessons, we have been extending our locational knowledge. We have been learning to find and locate the world's seven continents, and five oceans. We have been naming, locating and identifying characteristics of the four countries and capital cities of the United Kingdom and its surrounding seas.
2016 - 2017 Seahorse Class work
Science
In science we have been learning about seasonal changes.
We will be learning about changes across the 4 seasons and have created our own season tree linking to how the leaves look during each season. We have linked our learning to our previous plant topic in Science and have carried out an experiment to see what would happen if we out a white flower in some water with food colouring in! We listed the equipment we needed, write a detailed method, created a diagram to show how the experiment would look and made a prediction. We are leaving our plants for 24 hours to see what will happen…
Geography
We have been learning to use simple compass directions including north, south, east and west. We are looking forward to putting these into practise on our Pirate day orienteering challenge to find the hidden treasure!
RE
Our Religion Education we have been learning about what Jewish people remember on Shabbat. We have been linking this to ourselves by imagining we are on a desert island. We thought about important people in our lives and who we would miss most. We thought about what promises we would make to those special people.
Jimmy's Farm
We have been on a trip to Jimmy's Farm, linked to our Design and Technology focus of Cooking and Nutrition to develop our understanding of where our food comes from. We had a fantastic day learning about and feeding the farm animals. We were able to visit some exotic animals including Racoons, Reindeer and Emu's. We also explored the butterfly house! We learnt about which animals are used for meat in different countries and which parts of animals can be eaten.
At Jimmy's Farm, we had a fantastic time making dens and finished our day with a visit to the park.
Computing
In computing, we have been using technology purposefully to create, organise, store, manipulate and retrieve digital content. We have been creating our own PowerPoint presentations about the Titanic. We have learnt to save and retrieve these independently.
Design and Technology - Farm to Fork
Following our fantastic trip to Jimmy's Farm, we wanted to extend our learning further and understand where our fruit, vegetables, bread, cheese and fish came from . . . We walked to Tesco and took part in some interesting activities to answer our questions.
PE
We have thoroughly enjoyed taking part in invasion games with Matt from FA Skills, we are sad to see him leave but have learnt a lot. We have enjoyed learning how to control the ball using our hands and our feet, attack and defend and work as a team.
Thank you Matt!
Science
In Science, we have been learning about plants. We have been learning about the 5 basic needs of living things, we have been labelling parts of a plant and have carried out an experiment to identify the best location for a plant to grow. We planted Sunflower seeds and put one in a dark cupboard, one in a cold fridge, one in a dark corner of the classroom and one outside. We learnt that the seed that was planted outside grew the most as the basic needs were being met. We have been on a plant hunt around school to find different plants.
Art
In art we have been focusing on a famous sculpture called Rodin. We have been looking closely at Rodin's work and evaluating it to say what we like about it and what could be improved. Linked to our Oceans and Pirates topic this term, we have sculpted our own Pirate ships out clay. We had to follow our designs accurately. We waited four days for our Pirate ships to dry before painting them!
English - Writing Reports
In English, we have been learning to write reports. We created our own Pirate Pal's and wrote a detailed report t an alien explaining how we made them. We had so much fun but we got very messy!
Titanic
In our History lessons, we have been learning about the Titanic as it is a significant event beyond our living memories. We have been using the computers to research information. We have been using role play to pretend we were on the Titanic when it was sinking, we took it in turns to be crew members. The crew members had to give the passengers clear, precise instructions. We have enjoyed using pastels to draw pictures of the Titanic. We have been using the computers to create wordles using words we think like to the Titanic. We have been researching the route the Titanic took in our Geography lessons. We have linked this to our learning about the 7 Continents and 5 Oceans of the world. We have really enjoyed learning about the Titanic!
In Seahorse Class we believe . . .
Maths
In mathematics we were using the inverse to check the Maths Monkey's calculations.
Fractions: the children were using counters to find fractions of numbers.
World Book Day
Well done to all the children for dressing up in some amazing costumes for World Book Day.
Maths
Maths today was solving number problems by using cubes.
D & T
The children were learning to make wheels and axles in their Design and Technology lesson.
Norwich theatre Visit
The whole school attended the Norwich Theatre Pantomime, which this year was
Jack and the Beanstalk. The children laughed,clapped and cheered loudly.
After the performance several of the actors came back on stage to answer some very
interesting questions from the children.
Baby Elliott's Visit
Miss Madddy Evans brought baby Elliott into visit the children today
as part of our babies topic. The children were delighted to see Elliott
who is four and a half months old, they presented him with the toys they
had made in a previous lesson and asked Elliott's mummy lots of questions,
which she bravely answered.
Then the children finished the visit with a lovely lullaby.
The the adults got a lovely cuddle.
19.10.2016 Maths Learning Cafe
Seahorse Class created times tables sticks in their maths learning cafe
today with the help of their parents. The children were learning to count
in twos, threes, fives and ten times tables.
Thank you to all parents who came to visit today.