E
Orca
Welcome to the Orca Class Page
Years 3 and 4 Teacher - Mrs Baxter
2021 - 2022
Spring term 1
PE
Orca Class have been developing their passing skills in football as well as attending swimming lessons at Water Lane Pool.
Art
In art, we have been looking at Stone Age cave paintings. We have learnt that most painting are of animals and humans. It is thought that they used charcoal or soot from a fire to make the pigment (colour) for black, and they crushed coloured stones to make yellow and red. They then mixed these pigments with natural plant and animal gums. They painted using their fingers or for more delicate work they used feathers, bunches of animal hairs, quills and sticks as brushes.
We have been trying to recreate some of the artwork using crushed chalk and charcoal. It was great fun but very messy!
Hand art
Animals and humans
Science
Our Science unit this term is living things and their habitats. We have been sorting animals and grouping them together using their common biology, features and characteristics.
We used a classification key to help us group them.
In history this half term, we will be learning about the Stone Age through to the Iron Age. Our class book will be 'Ug: Boy genius of the Stone Age' by Raymond Briggs.
Christmas jumper day 2021
Science
Our science topic this term is light. We have conducted many experiments and planned our variable data to cover the following learning objectives:
To know that darkness is when there is no light.

To understand that light travels in straight lines.

To know what reflection means and understand that we see some things because light is reflected off them and into our eyes.

To understand that light is reflected off objects into our eyes, which is how we see things around us.

To understand why we have shadows and understand that a shadow has the same shape as the object blocking the light.

To know how to change the size of a shadow.
Art
We have created a Christmas stamp using cardboard and polystyrene. We then used the stamp to create our very own Christmas wrapping paper!
In art, we have been studying the artist Banksy. We looked at his graffiti style of art and whether or not graffiti art is good or bad. We made a stencil of our first initial and an image, just like Banksy.
Music
In music, we have been signing in 2 parts and in rounds. We have to listen carefully and concentrate to make sure we stay in time and in unison. We have also been learning to play the glockenspiels and keeping the pulse and rhythm steady.
English
In English, we have been reading the book 'Oliver and the Seawigs' by Philip Reeve.
We have enjoyed keeping a diary of Oliver's travels and wrote some poetry about the Thurlstone (a mean Rambling Isle!)
Throughout the unit we kept a diary, writing in the role of Oliver. We had to write in first person and past tense and include lots of details about the adventures he had along the way.
Ancient Greece
We have been learning about the different foods Ancient Greeks would have eaten and they way they would have been cooked and stored. We then tasted a range of foods, noting the different textures and flavours.
Science - Light, Earth and space
We have been learning how to describe the movement of the Earth, and other planets, in relative to the Sun in the solar system.
We learnt that day and night are caused by the Earth turning and that the sun never moves. We also looked at the different phases of the moon.
We used torches to represent the sun and moved the moon around the Earth as it spun on its axis.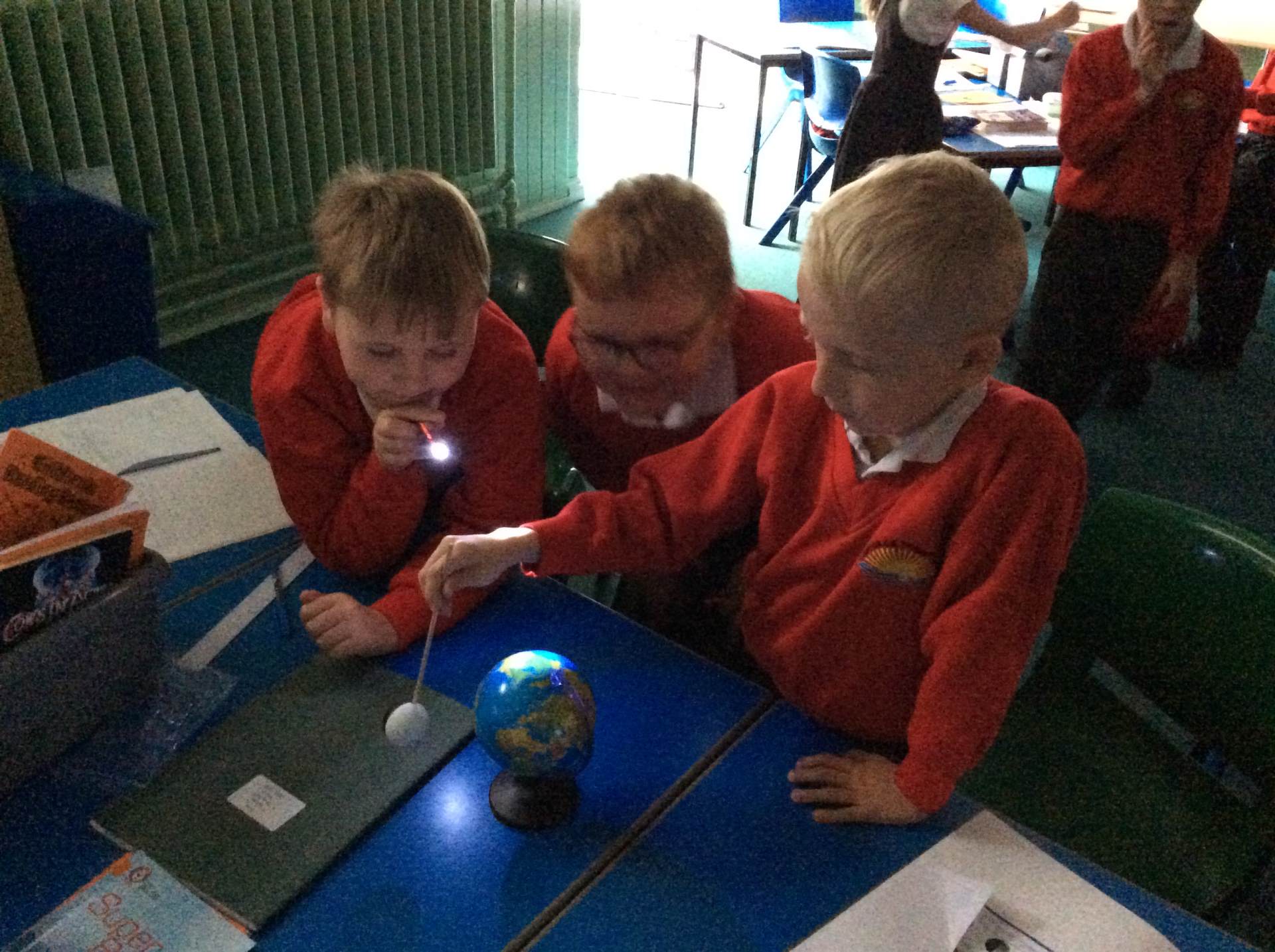 Welcome back to Orca Class!
The children had a great first day back and have settled into the new routines very quickly. They all looked very smart too!
Our history topic this term is Ancient Greece.
In English, we will be reading the book 'Greek myths' by Marcia Williams and our work will be based around this book.
2020 - 2021
Summer term
We looked at some of the artwork created by Vincent Van Gogh. The children loved his use of bright colours in his paintings and went on to draw and paint a sunflower. We put them all together to create a vase of sunflowers and the final result looked fantastic.
We celebrated Earth day on the 22nd April. We discussed ways we could help protect the Earth for future generation and created poems about how important and special trees are to our environment. Here are a few of our poems.
In maths, we have been learning about fractions and decimals. We have used place value grids to help us with our understanding.
In art, we have been learning about Henri Rousseau and recreating his work 'Tiger in a tropical storm. We created a colour wash background with watercolour paints and will then added trees on top.
Our science this term is Living things and Evolution. We looked at how the Earth was formed and how it has changed (and is still changing) millions of years later. Our activities showed the Earth's crust moving and how this changes our landscape.
In English, we have been writing our own dilemma story in the style of The Great Kapok Tree.
Our book in English is The Great Kapok Tree by Lynne Cherry.
We have been learning about the different layers of the rainforest and what wildlife can be found there.
In Geography this term, we will be looking at Rainforests of the world.
Rainforests are the oldest ecosystems on Earth and they are home to millions of people, plants and animals. There are two types of rainforest; tropical and temperate.
Tropical rainforests are found near the equator, in South America, Southeast Asia, Africa and the islands in the Pacific Ocean. The enormous amount of rain, coupled with tropical heat, means that the conditions in the rainforest are humid and damp.
Spring Term
Vincent Van Gogh Sunflowers
We have been looking at the artwork of the famous artist Vincent Van Gogh, including his sunflowers painting. Firstly, we sketched sunflowers, studying their petal shapes and seeds. Then, we painted the sunflowers by blending colours together for use on the petals. The results are fantastic!
We have been extremely busy learning both at home and at school in Orca class.
Autumn Term 2020
Science
In science we have been trying to find out how the size of a solar cell affects the amount of electricity produced.
The children made a circuit, including a solar cell and ammeter, and then covered parts of the solar cell. The children found out that the more of the solar cell that was lit produced a higher ammeter reading.
Dictionary presentation
Every child in 3 were presented with an illustrated dictionary. These were very kindly donated by the Lowestoft Rotary club. They can't wait to start reading them to learn new words and using them to help them spell.
Art - Shades and tones
In art, we have been mixing colours to make tints and shades. We slowly and carefully added more of each colour to make a gradual change.
Art - mixing colours
In art, we have been learning about the colour wheel. We used the 3 primary colours to make secondary colours. We then mixed the secondary colours to make tertiary colours.
English - Instructions
In English, we have been learning to listen to verbal instructions and follow written instructions. We then went on to write a clear set of instructions using prepositions, imperative verbs and time adverbials.
Look at the amazing edible Roman roads we made by following a set of written instructions!
British Values day
We all came to school wearing red, white and blue to learn about our British Values.
These include: Democracy, the rule of law, individual liberty, mutual respect for and tolerance of those with different faiths and beliefs, and for those without faith.
Active Classroom
We are an active classroom!
Keeping moving is really important, so we try not to sit down for long periods of time. We stand to answer the register, stand to answer or ask a question and have an active movement session in the afternoon.
Music Lessons
We have been learning about rhythm and pulse in music by listening to the 'Ghostbusters theme'
Using cups as instruments, we create our rhythm by tapping them on the tables! Thank you Mrs Blaylock we are having great fun!
Author Pen Pal
Orca class are super excited to be paired with an author Pen Pal. Her name is Alice Hemming and she has written over 40 books! Her latest book is called 'The Leaf Thief' and it also has amazing illustrations by Nicola Slater.
This week, we had a live session with Alice and Nicola, over the internet, when we discussed her inspiration for the book and becoming an author. We also took part in a live 'draw along' with Nicola where the children drew the squirrel from the story. Here are some of the children's drawings - aren't they fantastic!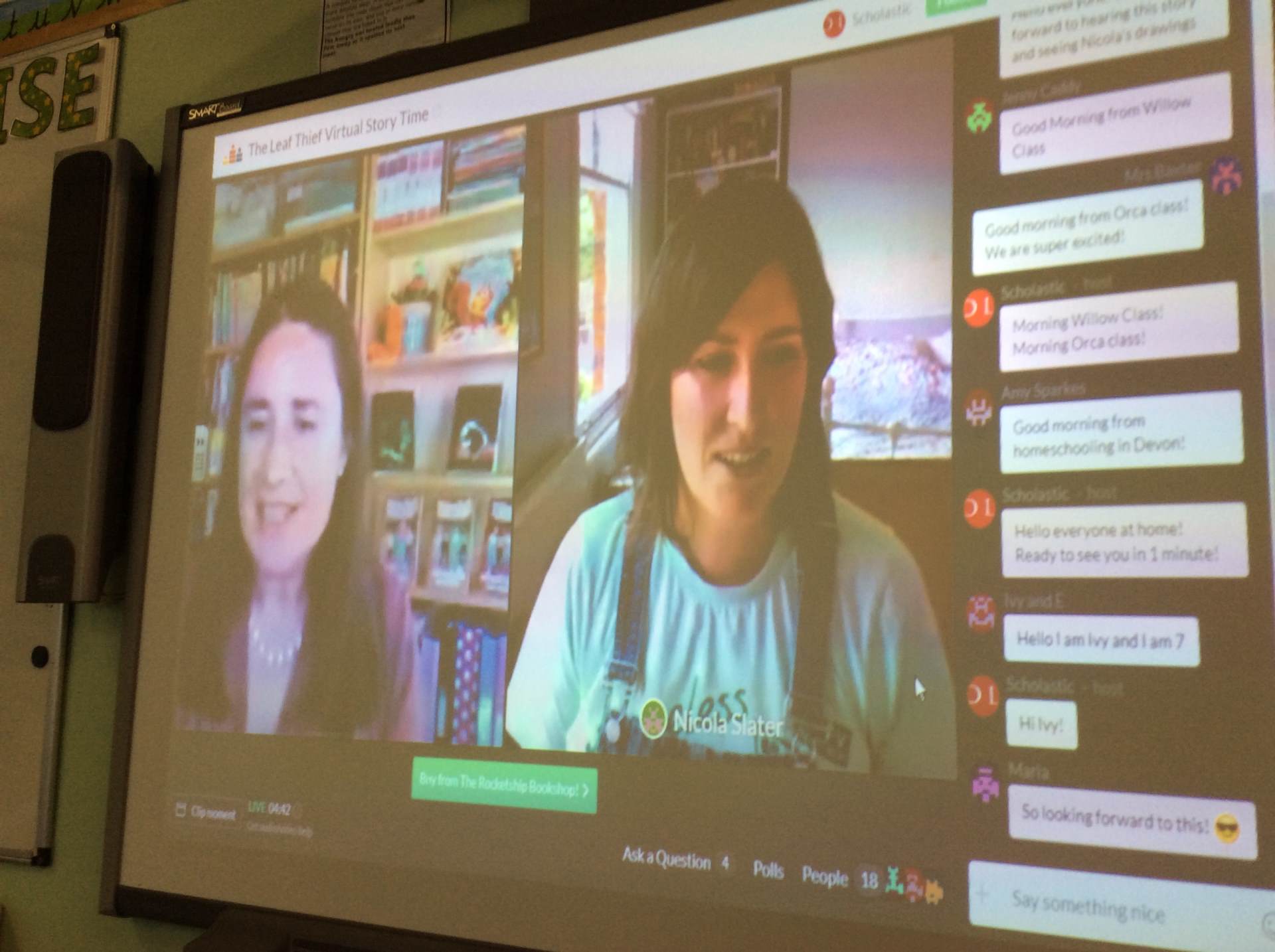 Science - Electricity
We made a human circuit!
Our circuit needed a battery, a switch, a bulb and we were the wires (by touching cubes with the next person) To make a complete circuit, the switch needed to be closed so the electrons could flow through the wires.
In Science we have been learning how to construct a simple electrical circuit; identifying and naming its basic parts, including D-cells, D-cell holders Crocodile wires, bulbs and bulb holders. The children were so excited when they created the circuit and their bulb lit up!
STEM Activity - The Gingerbread Man
Oh No! The Gingerbread man has reached the edge of the water and cannot get across!
Orca class were given a selection of materials to create a vessel to safely get the Gingerbread man across the water. It must be waterproof and buoyant or it will sink and he will go soggy!