Orca
Welcome to the Orca Class Page
Years 3 and 4 Teacher - Miss Varney
2023 - 2024
2022 - 2023
Welcome to Orcas!
This half term, Orca class are continuing their journey through Anglo-Saxon Britain by learning about different foods and cooking skills. We will be using recipes from or inspired by Anglo-Saxon times and all the foods that they would have used, grown or gathered!
We have started the term off with a nice Anglo-Saxon Honey Shortbread.
Orca class have been studying plants and photosynthesis in Science this summer term. We have learned all about MRS GREN and the process of a plants creation and survival. The children were then very gentle as they cut up a flower to find the different features and what their purpose was to keep the plant or flower happy and healthy.
Orca's have created some lovely posters and diagrams to represent their learning! Such a beautiful display of work!
By Theo C, Lyla, Amelie, Ellie, George, Annabelle J and Finn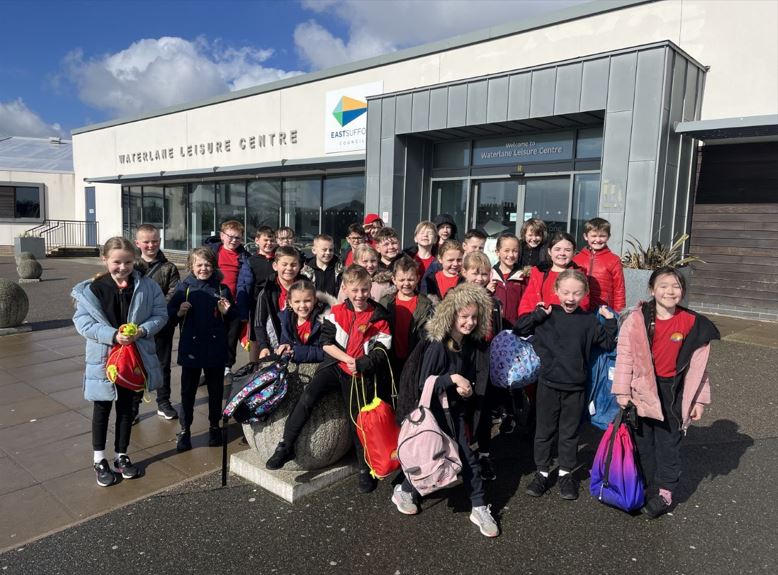 Orca class had a wonderful time swimming at Waterland Leisure Centre in the Spring term. They all made so much progress and worked so hard. We are extremely proud of all of them!
Well done Orcas!
Orcas have been doing lots of investigating in Science this week. We have been looking at the reactions between different states of matter and whether they are physical or chemical.
Each group was given different materials to mix and their job was to separate them. If they could separate them, it meant it was a physical reaction, if it was inseparable that would mean a chemical reaction took place.
Orca's had lots of fun experimenting with the different mixtures.
What a fantastic World Book Day!! Orca's teamed up with Shark class to create some absolutely amazing 'Book-in-a-boxes'. Everyone was so creative and it was such a lovely way to celebrate all our favourite stories!
Once again, it has been a real pleasure having parents back in school. All of Orca class are so proud of the work they have been producing and are always so excited to show it off to their families!
RE Morning: Hinduism
We were so lucky to have Gayatri Verma as our speaker for our Hinduism morning. She was able to give us a real insight into the life of Hindus.
She taught Orca class about the story of Rama and Sita, and they even had a chance to act out the story.
Thixotropic substance is made from a mixture of corn flour and water. When pressure is put on the mixture, by pushing or squeezing, you push the particles closer together which turns it into a sold. When you release the pressure, you release the particles and they have space to move again, making it a liquid.
It was really fun to investigate in Orca class, the children absolutely loved the messiness and the way it changed in their hands!
In History, Orca class have been learning all about Ancient Rome and the Roman Empire. The Romans were great innovators, creating and inventing many of the things we take for granted today, for example roads.
Their Empire was extensive and successful for hundred of years, which led us to ask, why?
Orca class did lots of research and came up with the most important features of an Empire, then used this to design and create their own. As groups, they them presented their Empire to the class making an argument for their Empire to reign successful!
RE: Is life a journey and does it ever end?
Orca class were introduced to Spring 1's big question: 'Is life a journey and does it ever end?'. They then look at the ingredients for a chocolate cake which led into a comparison to themselves, what makes up you? What are your ingredients?
Continuing to think about the big question, the children then began to look at Hinduism and Humanism to begin to create their own questions which they would like to answer throughout the topic.
They then looked at the journey of Hindus, discussing their beliefs and their life's journey, and creating some wonderful life cycles in their books.
Following this with a comparison of Humanism, exploring how it compared to other religions, what their beliefs are and what their journey of life is like.
Orca's were then asked to express what they had learnt about each religion through poetry, incorporating each religions beliefs and life's journey.
Corton was very lucky to have a visit from local author, Steve Day!
Orca class had the opportunity to interact with Steve's new book, 'That Leopard is so RUDE', reading and performing it to the class. Some of the children even decided they wanted to write their own rhyming story and perform it!
It was a wonderful day, the children really enjoyed reading in a new and exciting way and learnt a lot about what it takes to become an author!
Vinegar and Bicarbonate Experiment!
In Science, Orcas were learning all about the 3 main states of matter and what happens when they are dissolved, mixed or changes.
We became real scientist for the lesson, equipped with goggles, timers, vinegar and bicarbonate soda. When the bicarbonate of soda was mixed with the vinegar it created a Carbon Dioxide which filled the bag. After a while, the class got a loud shock as the bag exploded after no longer being able to contain the gas!
Orca's have been learning all about the Roman Empire and how the top of the hierarchy lived a life of luxury!
Part of their luxurious lives meant they had access to beautiful mosaics that portrays scenes of food, battles, hunting and many more.
Orca class have been studying Roman Mosaics and how they were made using the style of Tessera. We then compared this to the work of Elaine M. Goodwin, a 21st century mosaic artist that uses curves and bright colours.
Using a mixture of both techniques, Orcas set out to design and create their own updated Roman Mosaic!
RE: How do people show a commitment to a faith?
Orcas were set a very challenging task, that would require a lot of perseverance, commitment and dedication – to build a tower from spaghetti and marshmallows! They worked hard and overcame lots of obstacles on the way.
Then the key question was revealed: 'How do people show commitment to a faith?'
They then went onto explore Bar Mitzvahs, Bat Mitzvah's, Baptisms and Amrit Ceremonies. Many of the children realised they had experiences with Baptisms and began to share everything they have learnt through a comparison project.
Thinking about the similarities and differences between the events.
We then applied this to our own lives, expressing our own beliefs and commitments through colourful, eye-catching posters.
RE: Why do people choose to make a new start?
In our first lesson, the children started by exploring changes in people. By watching short clips from 'Despicable Me' they were able to visualise and relate to the changes that a person or character might go through.
Orca's then came up with their own questions as to what they wanted to learn during this topic, before being introduced to the terms big question 'Why do people choose to make a new start?'.
We then went on to watch a clip about Zacchaeus and one about Saint Paul, these allowed the children to visualise and discuss what type of a person they were and how they went on to change.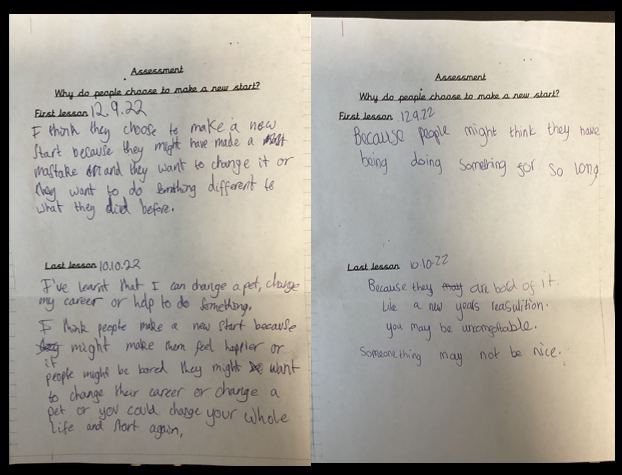 To finish, the children get the opportunity to reflect back on their work from the half term and answer their own questions that they created during their enquiry lesson.
Orcas were then able to express the feelings that those around them would have when changes are made to their lives.
Chemistry
In Science this term Orcas have been learning all about particle theory. All things on Earth are made of particles and are in one of the three states of matter: solids, liquids, or gases. We have started to experiment with each of the states of matter, observing the different results and reactions.
Orcas really enjoyed the 'Whoosh Bottle' experiment. The experiment demonstrates just how much chemical energy is released from such a small quantity of chemicals.
Some of the children in Orca class entered two of the Young Write competitions, 'The Magic Door' and 'Twisted Tales'. All of their stories were fantastic, some children were even chosen for publication in the Young Writers books!
It has been so lovely having all the adults back in school this week! The children have been working so hard this half term, we are so proud of everything they have achieved!
Orcas would like to say a big thank you to all the adults that joined us this week for our learning cafe! The children have been working so hard this term learning all about forces in science and it was really lovely to share their favourite experiment with you!
"On Wednesday, we all watched Miss Varney do an experiment and then we all had a go! This is how it all worked: First, we had to get our little pits and triple check that the lid came off and clicked shut. We had to measure out 10ml of water and pour it in our pots. Next, we had half of a vitamin C tablet and when Miss Varney said go, we dropped it into the water and quickly put the lid on as tight as we could. After this, we stepped back. The reaction was suppose to make the lid POP off, my groups first go didn't do it, but the second go the lid popped off and hit the ceiling and the tub fell over, tipping all the orange water over the table! And that is how it all happened!" - Lyla
2021 - 2022
Summer Term 2
Directors, Producers, Writers!
What can't Orcas do?
Yesterday, Orcas had a wonderful day creating their very own Stop Motion Movies about what they have learned in English the last few weeks. We think they are pretty GREAT! They have all done an incredible job!!
Check them out:
LDM LF AH CH.MOV FD LD AMW JD.MOV GL RP JRC LC.MOV
JB KK ES JB.MOV JC PW AD AF.MOV MC JR TC SZ.MOV
Detective Orcas!
"On Tuesday afternoon, on our way back from lunch Miss Varney stopped us and there was caution tape on the door. Someone had stolen Orcas iPad! We were SHOCKED! A police officer came in to help up from the culprit. Miss Varney suspected Mrs Davey, Miss Spence, Mrs Warner, Mrs Dalley, Miss Murray and Miss Varney (herself)! When we saw the crime scene there was lots of evidence - two handwritten notes, 2 glasses with finger prints, hair and the stolen iPad lead."
"First, we had to go and collect every suspects alibi. Then, the police office taught us about finger prints - loops, arches and whirls. We all took our own fingerprints, then had to get the teachers, this helped us rule out some of the suspects. After this, the police office taught us chronography - the study of ink from the notes. This helped us narrow our investigation down to Miss Spence and Mrs Warner! We went to get them and then interrogated them in class until Mrs Warner admitted to her crime!!"
By Sydney, Lyla and Annabelle J.
Orca Experiments!
Science - Forces
"First, we needed to plan what our research question was going to be, we came up with "What material will make a car go faster?" Second, we needed all the equipment so that we could test it. We needed: a stopwatch - to time it, a ramp - to make it challenging, and three different materials - creating friction between the car wheels and the ramp, these were our independent variables. Ready and set, we had all our equipment and our jobs in the team, then we began to test it. Our results found that when there was no material it went down in 1.04 second. With card, it went down in 1.19 seconds and with our final material, fabric, the car went down in 2.03 seconds. So our findings showed that the quickest material was no material and the slowest material was the fabric."
By Autumn, Sydney and Logan C

Carlton Marshes
"We went to Carlton Marshes and did lots of activities like pond dipping, bug hunting and more! We even saw swans! Our first activity was pond dipping, and we found a back swimmer and a Ghost Lava (it was so cool)! After, we walked to the meadow. We had to make map symbols and find clues. We then used leaves, stick and stones to make our own Marshes map. After a delicious lunch, we played on the play area, it was FANTASTIC! Then we went on a walk, we heard a fast train and we found lots of insects. Finally, we went back to the coach and headed back to school!"
By Finn, George and Jake
"Yesterday we went on an exciting school trip, with the whole school! When we finally arrived, we went on a 45 minute walk, it was FUN! We saw 2 swans - one of them flapped its big, massive wings and walked into the water! We also saw lots of beautiful birds and flowers! On our walk we got to take lots of pictures to make our own IMovie. After our walk we got to do some lovely charcoal art. In the afternoon we got to do pond dipping, we found 3 spiders, water snails and tadpoles. Then we travelled across another field using compasses to try and find clues. We really enjoyed this school trip because it was very fun and we got to learn lots of new things!"
By Logan D, Millie, Poppy and Keira
Today in Orca's we celebrated WORLD OCEAN DAY!
World Ocean Day reminds us about the important role that the oceans have in our everyday life. We started the day by attending a webinar hosted by WWF. We learned lots about oceans around the world and the marine life that lives inside. An oceanographer came along to tell us all about their journey around the world and what they have studied.
We then conducted our own research towards the importance of protecting our oceans and its marine wildlife, and created a poster to share our passion for saving our Planet!
Summer term 1
Jubilee Celebrations
Trinity Park
Spring Term 2
World Book Day 2022
The children all came to school dressed as their favourite book character. We spent the morning writing and making our own books which they took home at the end of the day to read to their families. Great fun was had by all!
Our Year 3 children were delighted to receive an illustrated dictionary from the Lowestoft Rotary club. These dictionaries help our children with their English skills and they absolutely love looking through them at all the wonderful illustrations - thank you.
In Geography, we will be studying Africa. Our English will be linked to this with a book call 'African Tales'
In Design and Technology, we have been looking at the traditions of African masks and how they are part of African culture. Each child designed their own mask using traditional shapes, colours and patterns.
The children have been working with fractions in maths. We have been finding fractions of amounts as well as adding and subtracting fractions.
In science, we have been looking at living things and their habitats. As part of this unit, we looked around the school grounds to see the species of plants that grow there and what conditions the plants need to adapt and survive.
We dissected a lily flower and named the different parts. We then put the different parts under the microscope and what we saw was amazing!!
Spring Term 1
PE
Orca Class have been developing their passing skills in football as well as attending swimming lessons at Water Lane Pool.
Art
In art, we have been looking at Stone Age cave paintings. We have learnt that most painting are of animals and humans. It is thought that they used charcoal or soot from a fire to make the pigment (colour) for black, and they crushed coloured stones to make yellow and red. They then mixed these pigments with natural plant and animal gums. They painted using their fingers or for more delicate work they used feathers, bunches of animal hairs, quills and sticks as brushes.
We have been trying to recreate some of the artwork using crushed chalk and charcoal. It was great fun but very messy!
Hand art
Animals and humans
Science
Our Science unit this term is living things and their habitats. We have been sorting animals and grouping them together using their common biology, features and characteristics.
We used a classification key to help us group them.
In history this half term, we will be learning about the Stone Age through to the Iron Age. Our class book will be 'Ug: Boy genius of the Stone Age' by Raymond Briggs.
Christmas jumper day 2021
Science
Our science topic this term is light. We have conducted many experiments and planned our variable data to cover the following learning objectives:
To know that darkness is when there is no light.

To understand that light travels in straight lines.

To know what reflection means and understand that we see some things because light is reflected off them and into our eyes.

To understand that light is reflected off objects into our eyes, which is how we see things around us.

To understand why we have shadows and understand that a shadow has the same shape as the object blocking the light.

To know how to change the size of a shadow.
Art
We have created a Christmas stamp using cardboard and polystyrene. We then used the stamp to create our very own Christmas wrapping paper!
In art, we have been studying the artist Banksy. We looked at his graffiti style of art and whether or not graffiti art is good or bad. We made a stencil of our first initial and an image, just like Banksy.
Music
In music, we have been signing in 2 parts and in rounds. We have to listen carefully and concentrate to make sure we stay in time and in unison. We have also been learning to play the glockenspiels and keeping the pulse and rhythm steady.
Ancient Greece
We have been learning about the different foods Ancient Greeks would have eaten and they way they would have been cooked and stored. We then tasted a range of foods, noting the different textures and flavours.
Science - Light, Earth and space
We have been learning how to describe the movement of the Earth, and other planets, in relative to the Sun in the solar system.
We learnt that day and night are caused by the Earth turning and that the sun never moves. We also looked at the different phases of the moon.
We used torches to represent the sun and moved the moon around the Earth as it spun on its axis.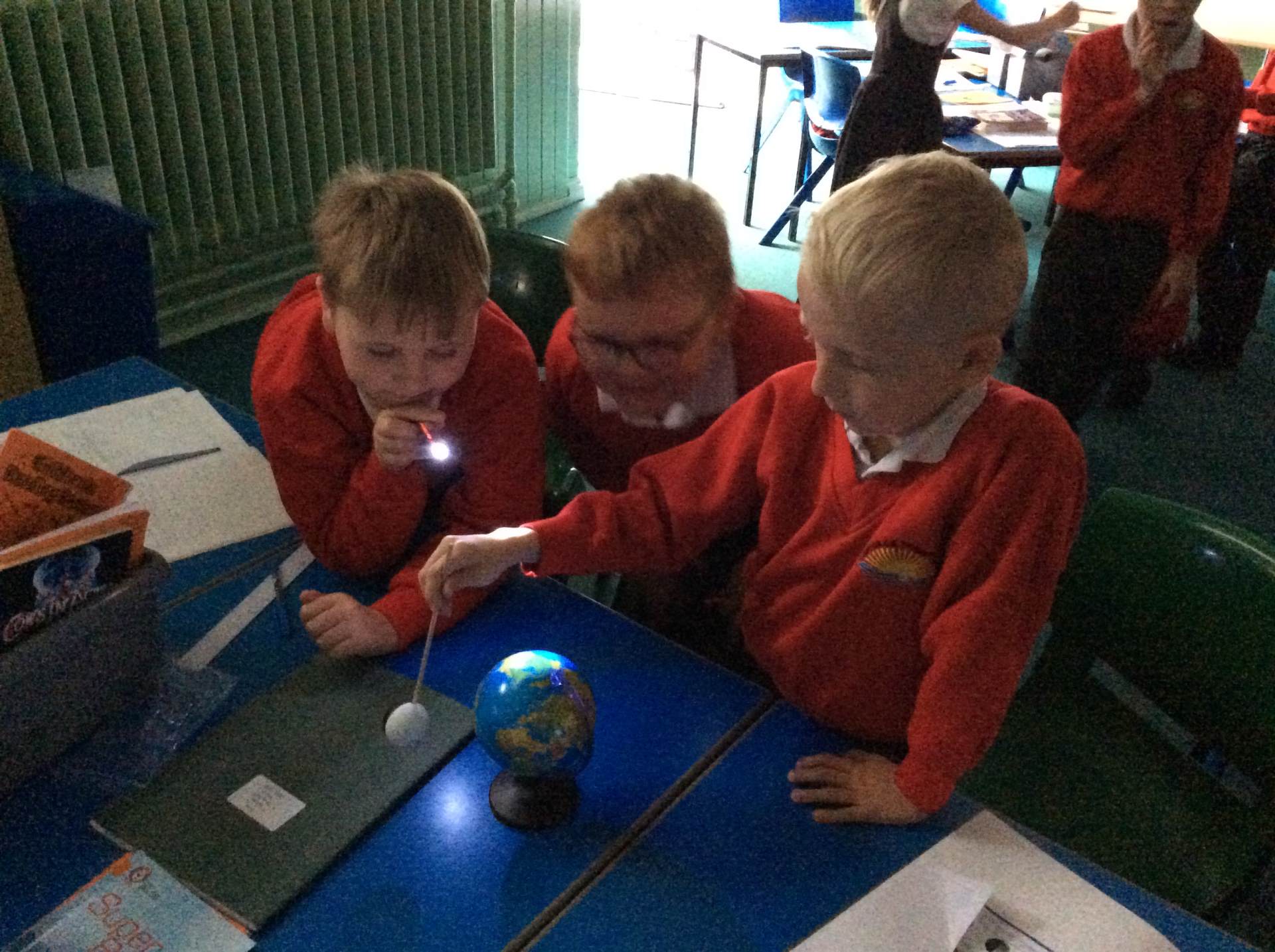 Welcome back to Orca Class!
The children had a great first day back and have settled into the new routines very quickly. They all looked very smart too!
Our history topic this term is Ancient Greece.
In English, we will be reading the book 'Greek myths' by Marcia Williams and our work will be based around this book.