TION_MENU}
Orca
Welcome to the Orca Class Page.
You can also follow us on Twitter! @CortonPrimary
2019 - 2020 Years 3 and 4
2018 - 2019 Years 3 and 4
World War II
Orca class have been learning about life on the home front during World War II. All of the children took part in a class play called 'Bombs and Blackberries' They were fantastic at acting out their various parts, singing songs and even a little dance at the end!
Oral hygiene learning cafe
3rd April 2019 - Today the children in Orca class had an oral hygiene workshop, run by Amanda Turner. We chewed a disclosing table to show up all the plaque on our teeth and then Amanda showed us the correct way to brush all of our teeth.
Alice in Wonderland Day
2nd April 2019
Orca class had an Alice in Wonderland themed day today following on from reading the book by Lewis Carroll.
We completed an investigation in maths, measuring arms, legs, feet and hands to see if people with longer legs had longer arms! We looked at symmetry using mirrors and had to complete the other half of The Cheshire Cat's face!
We went to Corton woods to role play scenes from Alice in Wonderland and to take freeze frames of various scenes.
Thank you all the parents for the children's costumes - the children looked Wonderful!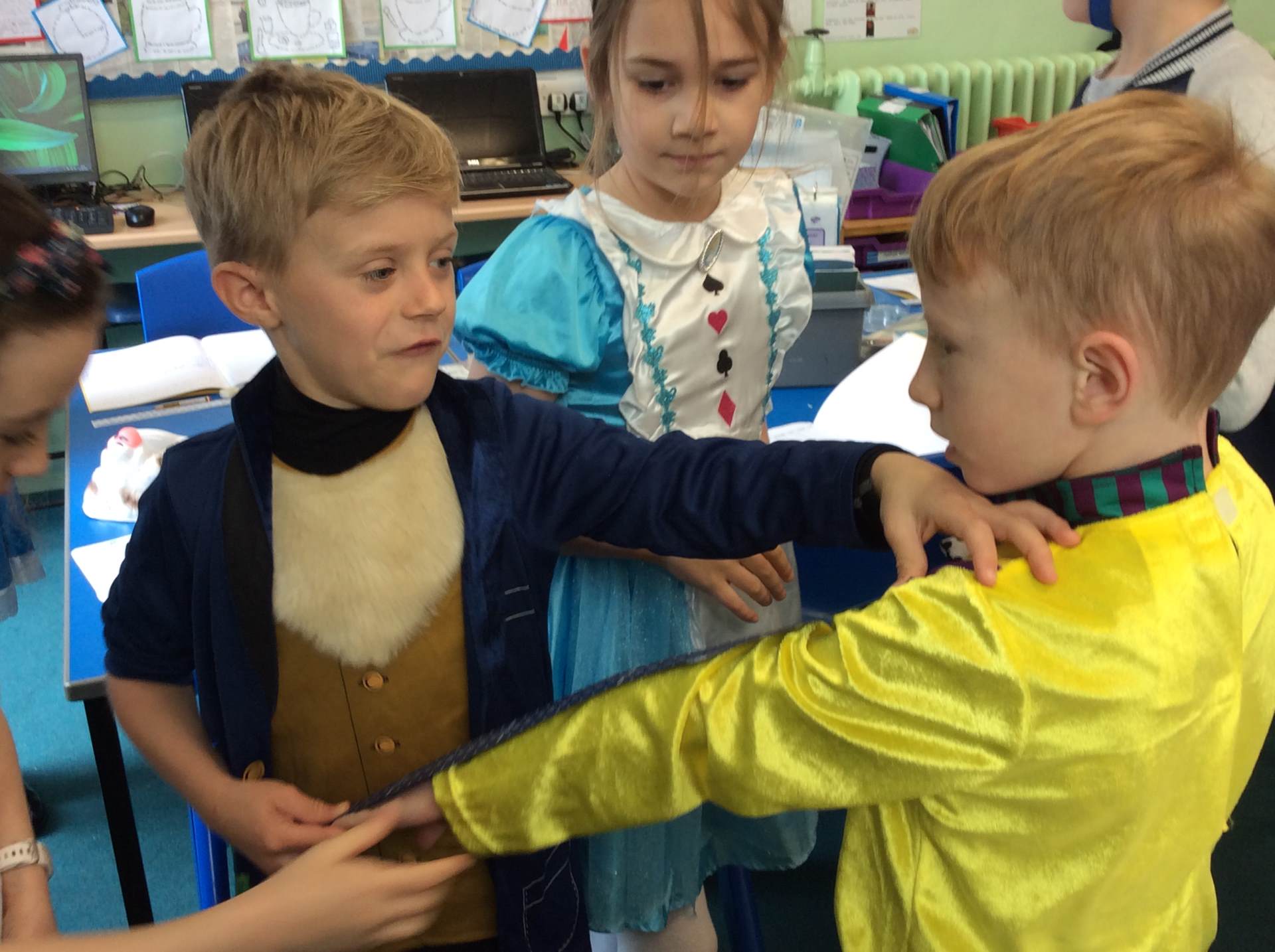 Red Nose Day
15th March 2019
The children were very enthusiastic about supporting the Comic Relief Charity by wearing red noses and red clothes for the day.
We also had a special book swap, where children could bring a book from home to swap with another child.
World Book Day
12th March 2019
Everyone arrived at school dressed as their favourite book characters, including Where's Wally, Boy in a dress, Gangster Granny,a variety of witches and many more. A massive well done to everyone.
Congratulations to the winners of the best costume.
In year 4 Lucas was awarded a prize for his very look-a-like Mr Bean, and Charlie (year 3) was dressed in a very clever version of the Toy Story book.
Homework
We have had some fantastic pieces of homework this half term. Some children have put lots of effort into their handwriting and presentation.
African Drumming!
In music this term we have been learning to play the African drums! We are really good at copying a rhythm and playing loudly and softly.
Homework
Some of the children made Roman shields for their homework this week - I think you'll agree they look amazing!
Autumn Term
Welcome back!
I hope you all had a lovely summer holiday and we are looking forward to lots of exciting activities this half term.
Our topic for this half term is The Romans.
Summer Term
Orca class went on a class trip to Trinity Park's School Farm and Country Fair. We learned about local farming and the machines they use, rode on a tractor's trailer and took part in a carrot quiz! We also had the opportunity to touch and handle farm animals. A fantastic day was had by all and the weather was glorious!
Spring Term
Year 4 Parent lunch
We welcomed Year 4 families in for lunch today. They enjoyed sitting with the children and eating a roast dinner - yummy!
Oral Hygiene workshop
Orca held a learning cafe on Oral hygiene with Amanda Turner. We used a disclosing tablet to make our teeth go blue and then learned the best way to brush away all the nasty plaque. 2 minutes brushing twice a day is a must! Thank you to all who attended.

Year 3 Parent Lunch
We welcomed Year 3 families in for parent lunch today. A lovely roast dinner and even a pudding!
Our topic this term is Stone Age, through to the bronze and iron age.
We have had some amazing homework handed in this term, thank you for supporting your child's learning at home.
Stone Age spears!
Ancient Greek Day!
On Monday Orca class came to school dressed as Ancient Greeks!
The staff were very impressed by the variety of outfits the children wore. They took part in a variety of activities including: making Greek clay pots, designing their own Olympic games, making Greek warrior shields and tasting Greek foods (you'd be surprised at what your children ate!)
8th November 2017
Greek Homework
For Homework, Orca class had to design and make a Parthenon.
The results were amazing!
Orca Class Learning Cafe
Orca class held there first learning cafe of the year. We learned all about how to feed garden birds in the lead up to winter.
We then got hands on making fat balls to hang in the garden and really enjoyed getting greasy!
Thank you to all the adults that came and helped the children.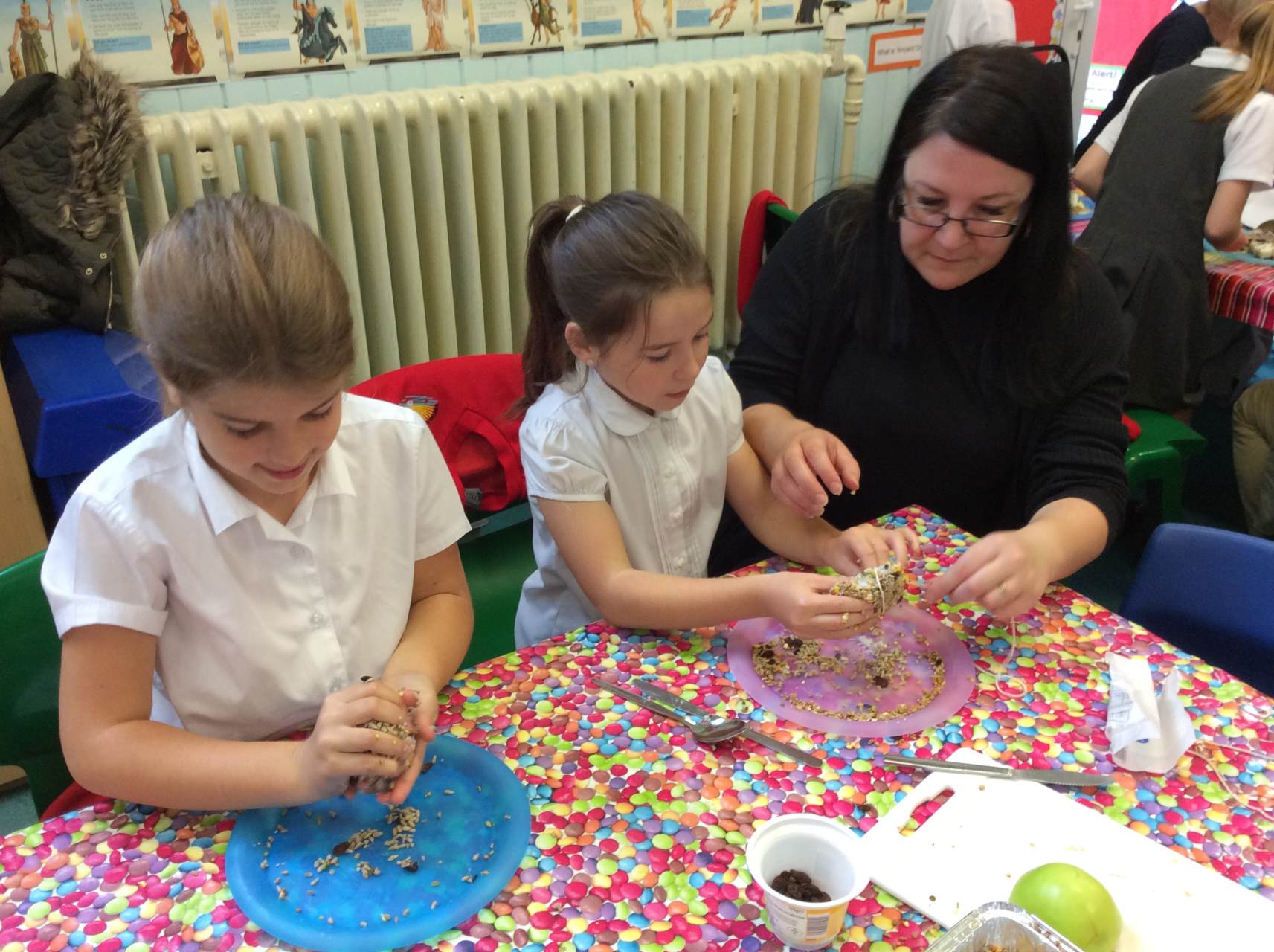 Year 4 - Parent lunch
Thank you to the families of our Year 4 children who came in today to enjoy a yummy lunch!
Parent Lunch, 28th September 2017
Thank you to all year 3 parents for attending our
Parent Lunch yesterday.
Welcome Back.
I hope you have all had a relaxing summer holiday.
I am looking forward to working with your children, I have lots of exciting learning activities planned.